This made the circuits a while ago, but I just can't get it out of my head!
A reminder that girls can count just as well as boys
, at least to the number 4.
As if we needed
Science Magazine
to tell us how great at math we are, there's also this definitive proof:
On a more serious note,
Agnes Scott College
in Atlanta, has a website on famous women in mathematics. Sadly, to date, no women has won a Field's Medal, the top award in mathematics, although several have won a MacArthur.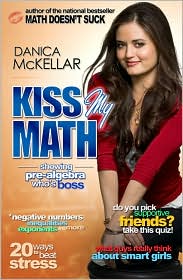 She played Winnie Cooper on Wonder Years, but now Danica McKellar is a mathematician. She is a huge math advocate and has written several books for encouraging a love of math in young women. You can listen to her interview with NPR on Science Fridays
here
. Danica is a good role model.